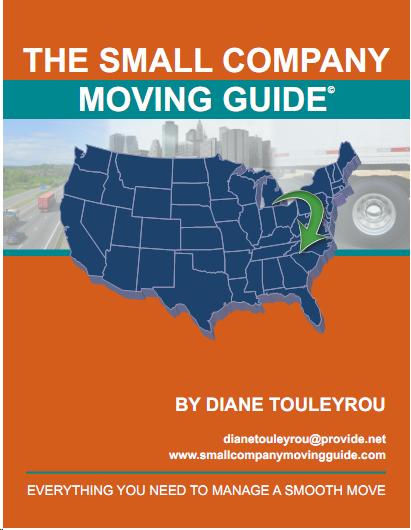 This guide will assist any small business in the relocating process.
For a limited time, order the Small Company Moving Guide and receive as an added bonus our 25 relocation Press Releases.
 Order your book today and we will send it via email attachment to you.

Hundreds of thousands of small companies and businesses across the country relocate to new offices or sites every year.
This book has been used by Buckingham Palace to move the Royal Ballet School. If it's good enough for the Queen of England, it should work for you!
Most have outgrown their current locations, while some are down-sizing their operations and require smaller, more cost-effective spaces. Still other companies seek a new geographic location offering a better quality of life while lowering the cost of doing business. Whatever your particular reason for making the change, moving a company requires a lot of thought and thorough planning. The Small Company Moving Guide can help!
Most employees who have been assigned to manage a move are doing so for the first time, and the responsibility can fall on anyone from the Chief Operating Officer to the Personnel Director or Office Manager. The only relocation experience for most people is their last home move. If your company has decided to move and you've been designated to lead the movement, the Small Company Moving Guide is for you!
Moving is ranked as one of life's most stressful events, and can't be practiced beforehand. Preparation and planning is very important to ensuring a successful move. Without proper planning, you many find yourself with a copy machine too large for its designated space, a telephone systems with not enough telephone lines, a brand new spacious warehouse without adequate shelving, or even worse, movers being paid to wait while employees pack.
Remember: The only dumb question is the one which isn't asked!
This Small Company Moving Guide is divided into sections to help you plan exactly when and how to delegate the many move-related responsibilities.he examples in this guide are designed for moving a company of 25 employees within a three month time frame.These concepts and ideas can be adapted to any business like this list of some of our past customers, regardless of size and moving time frame, and whether your move takes you across town or across the country. I have used this effective and complete plan to move many small companies.
This Small Company Moving Guide should also answer most of your questions as well as tell you what questions to ask others relating to your particular discipline.Don't be afraid to ask the advice of employees, friends, business associates, and others who have survived a move – their input can be invaluable. the only dumb question is the one which isn't asked.
There are two other very important things to keep in mind:
1) Moving is a team effort and cannot be done alone – one person cannot possibly attend to every detail of the move. You will have to delegate responsibilities in order to ensure a smooth move.
2) Moving is rewarding and can be fun!
Good luck with your move.
Diane Touleyrou